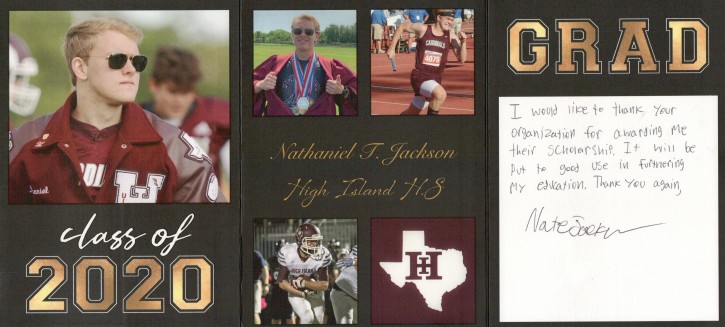 ---
Jaden's thank you
I did it. I told you I wouldn't let y'all down or myself.
Thank you and the entire Crab Fest Charities board for believing in me and helping to support me throughout the difficult time I went through last semester. It means the world and I promise it won't go unappreciated. I hope I can be a representation of hope for all the kids who graduate here. That just because we come from a small town doesn't mean we can't make something big of our life. Once again thank you so much for all the support. (Jaden Bryan, HI High School Class of 2018)
Jamie Blackburn (Mother of Austin Gibson, HI High School Class of 2019):
Morning…wanted y'all to know Austin finished up @ LIT and got his diesel mechanics certification, made all As this semester and would have graduated this Friday, but Pandemic shut that down. He's doing great and will go in to get his CDL @ Houston Community College…thanks for all of the support and believing in him.
---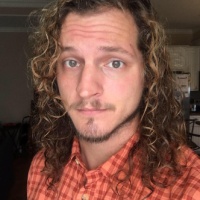 My name is Zechariah Turk. I am currently 25 years old and studying to finish two bachelor degrees including Marine Biology and Marine Fisheries with a minor in Chemistry at Texas A&M University in Galveston. School has been a very long and difficult journey for me trying to maintain good grades while often working 40+ hours a week at various jobs. My first three years of school (along with my first two associate degrees) were held at Lamar State College Orange. I took a year off to work and earn enough so that I could return to school and finish a bachelor's degree. I wanted to initially return for Biology but my love for the ocean and the Bolivar Peninsula lead me to Marine Biology. I attend Crystal Beach Community Church and volunteer at the soup kitchen there on Sundays to give back to the community that has supported and helped me.
The Texas Crab Festival is an amazing organization that has had a permanent, positive influence on myself and the other members of the Bolivar Peninsula. The Texas Crab festival is all about giving back, which is such a simple thing that people can do that can affect the way we as a community can grow. TCF has eased so much financial strain that once plagued my life and it is the simplest thing I can do to give back and be an advocate and speak positively to promote TCF with their online app opportunity at www.tcfcharities.org.
Again, I am so grateful that there is an organization like TCF that can aid in the growth and progress of the Bolivar Peninsula. The TCF is a positive influence that gives the members of the peninsula hope for the future and light for the next day. [1-18-2017]
---